Well, I'm back from my travels of the week. It's sure nice to get away.
Packed DS off for band camp on Sunday, and then DD and I hopped on the PA turnpike to Philadelphia to visit my parents. I hadn't been home in almost a year, and even then I was only there for very brief visits because of a family wedding shower and subsequent wedding. So this time I visited solely to spend time with my parents, and it's made me realize that I need to do it more frequently. In my short trips last year, I blew by without understanding that my parents had gotten older. Much older. I don't want to explain a lot about their difficulties and open up their lives in this blog - that wouldn't be fair to them. But I'll tell you that they are both not well. They're trying to put on a brave face, but I now know that they need help. I feel like my eyes can suddenly see. So - - - I think I've come to the realization that I need to visit more often. And regularly. I need to make it a priority - not something I try to fit in once every year or so.
Don't get me wrong - I'm not the only child involved with mom and dad. I'm blessed to have brothers and sisters that live near my parents, and they are good, caring adults. So I guess my need to visit is purely my own.
Well anyway - it was a nice visit. We spent one day shopping w/DD for school clothes. Fayette County malls are pitiful, and the suburban Philadelphia malls seem downright decadent, so Colleen was practically in heaven with all the choices of stores! Then on Tuesday we (Mom, Colleen, and I) drove to Longwood Gardens.
It was just wonderful! Still full of color and beauty, even this late in the season. I'd love to go back when they do their mum displays - maybe I'll make it there in November.
We also stopped at the Stawberry Sampler in Chadd's Ford. Good thing I had a single project in mind - a baby gift for my brother and his wife who are expecting a boy in December. Otherwise no doubt about it - I could have emptied the bank. There is a local designer named Abby Middleton in Chadd's Ford, and her charts' names are "X-Appeal". And I just love her designs. Come to think of it, her mother may own the Strawberry Sampler. Well, last time I was there - maybe 4 years ago - there weren't many charts, but I liked what I saw. This time I saw several X-Appeal charts in several "categories", and they were all wonderful. Check them out if you like Lizzie Kate or the Trilogy or Bent Creek. You'll like these as well. (I have no affiliation with the store or the designer - I just like them both) Oh - and I found a neat X-Appeal chart to stitch for this baby gift.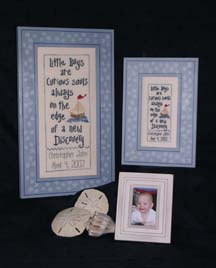 We came home on Wednesday, and DH and I left on Thursday for Rocky Gap. We had driven by there several times on our way to the beach, and Dave had played golf there, but that was all. Oh my - what a beautiful place!
Our room was on the backside of the lodge - Lake view. Stunning. The atmosphere was relaxing and lovely, and the food was excellent. There were walking trails to hike, boats to rent, and a lovely beach across the way. Not to mention golf(which I won't - given my previous golf rant....)If anyone reading this plans needlework retreats for any Washington or Baltimore groups, this place would be marvelous.
And now it's back home and back to work and reality. Sigh. But the kids go back to school in EIGHT days! And I'm counting down....